Af kærlighed til kaffe og rejser.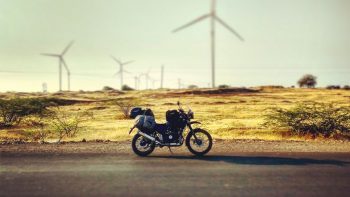 César Ritz Colleges kandidat Binny Varghese tog på en 100-dages motorcykel tur igennem Indien for at lære alt om kaffe i sit hjemland. Vi talte med ham for at finde ud af hvad han lærte og hvordan han blev kendt som 'Barista på Hjul'.
Hvad gav dig ideen til at køre rundt i Indien på en motorcykel på jagt efter god kaffe?
Folk i Indien drikker normalt instant kaffe. Jeg synes det er ret trist, fordi Indien er den 6. største kaffeproducent i verden, men vi sælger det meste af vores kaffe til andre lande. Jeg ønskede at få en bedre forståelse for, hvorfor det er så svært at finde en god kop kaffe her i landet.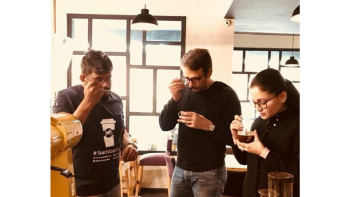 Hvad lærte du om kaffe på din rejse?
Da jeg rejste i det nordlige Indien sagde folk, at hvis du drikker kaffe, så bliver din hud mørk.Jeg mødte folk i øst og nord som troede, at man kan blive lidt skør af at drikke kaffe. Og mange andre troede, at koffeinen i kaffen ville ødelægge deres nattesøvn (selvom kaffe indeholder nogenlunde den samme mængde koffein som te). Mange var også overbeviste om, at kaffe er en drik som kun er forbeholdt de rige.
På mine rejser var det fantastisk at afdække de mange forskellige myter der findes omkring kaffe.
Hvordan vil du beskrive en god kop kaffe?
Det kommer helt an på din personlige præference. Det bedste er at prøve så mange forskellige typer kaffe som muligt, men kaffen skal altid være frisk – når den er frisk, er den det bedste i hele verden. Når jeg siger "frisk" mener jeg, at den skal være nyligt ristet og friskmalet. Den bedste kop kaffe er en myte. Den findes ikke. Det skyldes, at den bedste kop kaffe kan være helt anderledes for dig end den er for mig.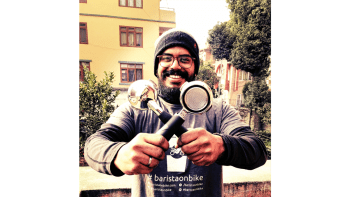 Har du altid ønsket at arbejde med hospitality?
Min kærlighed til mad begyndte da jeg var lille og hjalp min mor i køkkenet. Jeg begyndte at arbejde som kok for cirka 11 år siden, da jeg gik på college. På det tidspunkt i Indien var det meget usædvanligt for kokke at gå ud af køkkenet og møde gæsterne. Dette har ændret sig nu. Men jeg er en meget menneskeglad person, og derfor besluttede jeg mig allerede tidligt for, at bevæge mig mod F&B service med fokus på træning.
Hvad er dine arbejdsopgaver som Uddannelses- og Innovationschef hos Coffee Equipment and Machine Company?
Virksomheden beskæftiger sig med kaffeudstyr og maskiner i Indien. Jeg træner baristaer og uddanner og coacher folk, som er på vej ind i kaffeiværksætteri. Jeg rådgiver virksomhedsejere omkring hvilke maskiner de bør købe, og hvordan de skal gribe deres markedsføring og økonomi an. Jeg holder også 'train the trainer' workshops og giver de første instrukser til internt personale.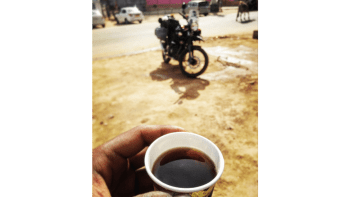 Hvordan har denne position påvirket din kærlighed til kaffe i Indien?
Rollen giver mig mulighed for at eksperimentere med kaffe og forskellige maskiner, og den giver mulighed for at rejse til udlandet til messer og forskellige kaffebegivenheder.
Det endelige mål er at opbygge et stærkt kaffesamfund i Indien, der er forbundet med deres passion til kaffe.
 Hvad skal der ske nu for 'Barista på Hjul'?
Jeg vil gerne tage på en ny rejse. Den næste rejse kunne være om menneskene bag kaffen; om hvordan kaffen laves og hvordan folk giver deres hjerte og sjæl til kaffen. Min første 'Barista på Hjul' rejse var i Indien og Nepal, så næste gang vil jeg gerne nå endnu længere ud, måske til østsiden af Indien, hvor kaffen bliver dyrket. Vigtigst af alt vil jeg dog bare gerne fortsætte med at udforske mere omkring kaffe imens jeg rejser på min motorcykel.

Binny Varghese er uddannet fra César Ritz Colleges i Switzerland med en Bachelor i Arts in Hotel Management.