Kokkeuddannelse med teori og praktik i absolut verdensklasse. På Culinary Arts Academy Switzerland uddannes stjernekokke.
Her tilbydes studerende en komplet kokkeuddannelse fra traditionelle kulinariske basics til internationale Fine Dining metoder. Kampgejst og kreativitet er nøgleord for de studerende.
Kokkeuddannelse giver de studerende den viden, forståelse og fingerspidsfølelse, de har brug for til at starte en vellykket karriere inden for kulinarisk kunst. Som en del af den afsluttende eksamen bliver den studerende bedt om at demonstrere innovative ideer ved at udvikle og udarbejde deres eget kulinariske koncept.
Små klasser og tæt samarbejde mellem lærere og studerende giver den studerende den personlige opmærksomhed, der er nødvendig for at udvikle sig til en kreativ og individuel kok. Ved at øve i skolens restaurant får du i løbet af den teoretiske periode den praktiske oplevelse, du har brug for, for at være godt forberedt til din praktik.
Culinary Arts Academy Switzerland lægger stor vægt på at tilbyde den studerende mulighed for aktivt at udvikle sig til en professionel kok. Dette gøres ikke kun gennem undervisning i klasseværelset, men vi arrangerer også udflugter til restauranter, vingårde, madproducenter, messer og gastronomiske begivenheder. Vores kokketræning og bachelor ved Culinary Arts Academy Switzerland er akkrediteret af University of Derby i England.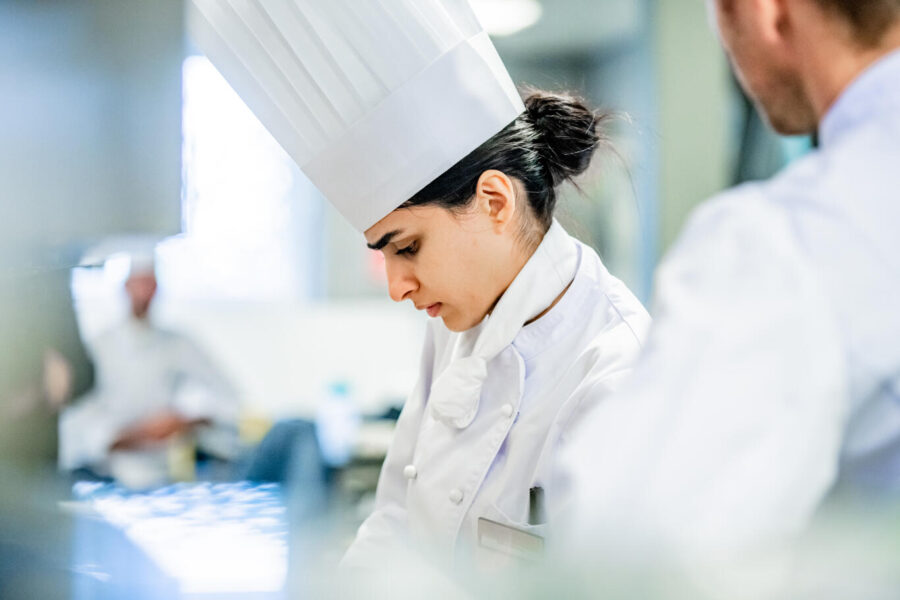 Swiss Higher Diploma in Culinary Studies – 2.5 år, hvoraf 1 år er praktik
Bacheloruddannelsen i kulinarisk kunst lærer den studerende de grundlæggende teknikker til at blive en succesrig international kok såvel som de avancerede teknikker, der er nødvendige for at udvikle egen identitet i køkkenet, en identitet, der udvikles både fagligt og gennem praktisk erfaring hele livet. I de første to år er i alt to praktikpladser på restauranter i absolut verdensklasse inkluderet. Det er ikke ualmindeligt, at studerende går i praktik hos kokke, der har modtaget en eller to Michelin-stjerner.
Bachelor of Arts in Culinary Arts – 3 år, hvoraf 1 år er praktik
Når du har opnået dit Swiss Higher Diploma, har du muligheden for at fortsætte og læse yderligere to teoretiske semestre på 11 uger og dermed opnå din bachelorgrad. Her lærer vi fagligheder af et avanceret køkken med inspiration fra hele verden. Programmet inkluderer også en lederuddannelse, som er meget vigtig, når studerende går ind i arbejdslivet og driver et køkken / restaurant. Denne bachelorgrad er akkrediteret af University of Derby i England.
Vi tilbyder også en kortere kokkeuddannelse, som du kan læse mere om her.
Ansøgningsdokumenter:
Eksamensbevis fra gymnasiet
CV
Kopi af gyldigt pas
Motivationsbrev