Vegetariske opskrifter får en større og større plads i den kulinariske verden, hvilket har ført til behovet for en specialiseret vegetarisk kokkeuddannelse. Der er forskellige årsager til, at flere og flere mennesker vælger at spise vegetarisk, men eftersom dette er tilfældet betyder det også, at efterspørgslen efter veluddannede kokke i området er steget merkant. Fra april og juli 2020 kan du begynde et helt nyt erhvervsuddannelseskursus på Culinary Arts Academy Switzerland, som vi er ekstremt stolte af!
I denne intensive uddannelse i vegetarisk kulinarisk kunst får du en bred, international basis kokkeuddannelse. Uddannelsen dækker over 6 måneder på campus i Le Bouveret, samt et års betalt praktikophold, som du kan tage, hvor som helst i verden.
Generelt er dette en meget praktisk uddannelse, men den inkluderer naturligvis også nogle teoretiske kurser. Det, der er meget interessant, er kombinationen af ​​lektioner på campus og den praktik, du tager i løbet af uddannelsen.
Før dig med erhvervserfaring
Hvis du allerede har erhvervserfaringer, kan du stadig gøre gavn af nogle af vores kursusdele. Kontakt os for mere information her.
Programindhold
Den vegetariske kokkeuddannelse er opdelt i tre semestre med undervisning på ca. tre måneder pr. semester kombineret med to praktikophold på ca. seks måneder hver.
1. semester: Fokuserer på de grundlæggende principper for vegetarisk og plantebaseret madlavning samt hygiejne, sanitet, fødevaresikkerhed og bæredygtighed.
2. semester: Avanceret vegetarisk og plantebaseret gourmetkøkken, vegansk bagning og bagværk, ernæring, sundhed og særlige diæter samt introduktion til erhvervsøkonomi.

Praktikperiode 1: Seks måneders fuldtidsarbejdserfaring, enten i Schweiz eller internationalt.

3. semester: Globalt vegetarisk køkken, vegetarisk restaurantkonditori og veganske desserter samt vegetariske tendenser og køkkenledelse.

Praktikperiode 2: Seks måneders international arbejdserfaring på fuld tid.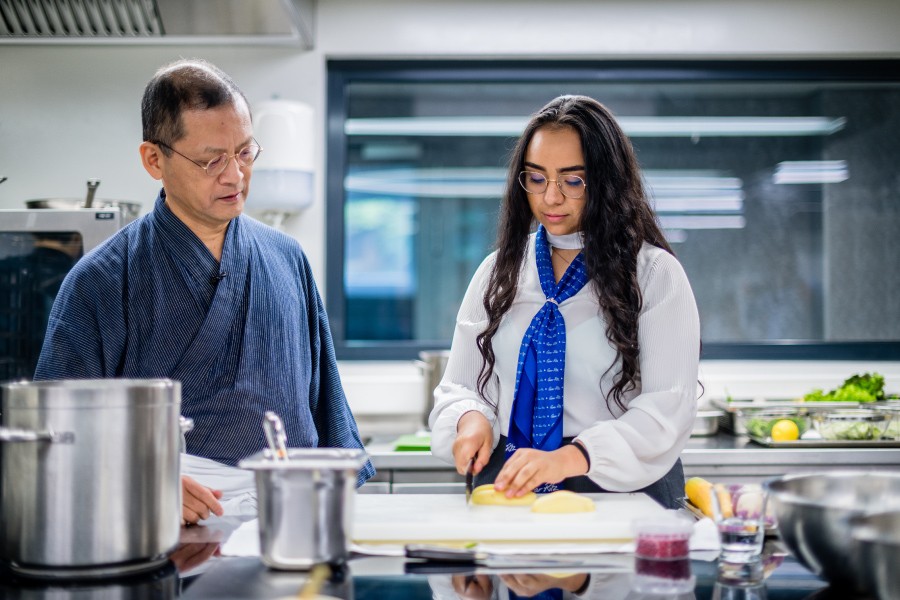 Internationalt praktikophold
Alle studerende har i alt et års international praktik fordelt på to perioder på seks måneder. I de fleste tilfælde er praktikopholdet forbundet med løn fra arbejdsgiveren og kan foregå enten i Schweiz eller på verdensplan. Populære destinationer uden for Schweiz er London, Italien, USA og Skandinavien.
På campus er der en karriereafdeling, der specifikt er dedikeret til at hjælpe alle studerende med hele processen med praktikophold, karriereplanlægning og jobforberedelse. I løbet af semestrene på skolen vil du have individuelle møder med en karrierecoach for at drøfte dine mål, og hvad du ønsker at få ud af din praktik, f.eks. med hensyn til land, arbejdsgiver og virksomhed.
Derefter vil I sammen søge efter muligheder inden for skolens globale netværk af Michelin-restauranter, eventvirksomheder og hotelkæder for at finde den bedst mulige praktikplads baseret på dine præferencer og omstændigheder.
Ansøgningsproces
Vi hjælper hver enkelt studerende med individuel vejledning i hele ansøgningsprocessen og andre praktiske forberedelser til studiestart. For at søge ind på programmet skal du indsende et CV, et motivationsbrev og eksamensbeviser fra tidligere studier.
Vi behandler hver enkelt ansøgning individuelt og ser på det store billede, hvor det vigtigste for os er, at hver enkelt elev har en ægte passion for faget og en holdning til, at industrien og professionen er noget, de ønsker at forfølge. Du er velkommen til at kontakte os for at få vejledning om din ansøgning, og vi vil hjælpe dig gennem hele processen og besvare alle dine spørgsmål.