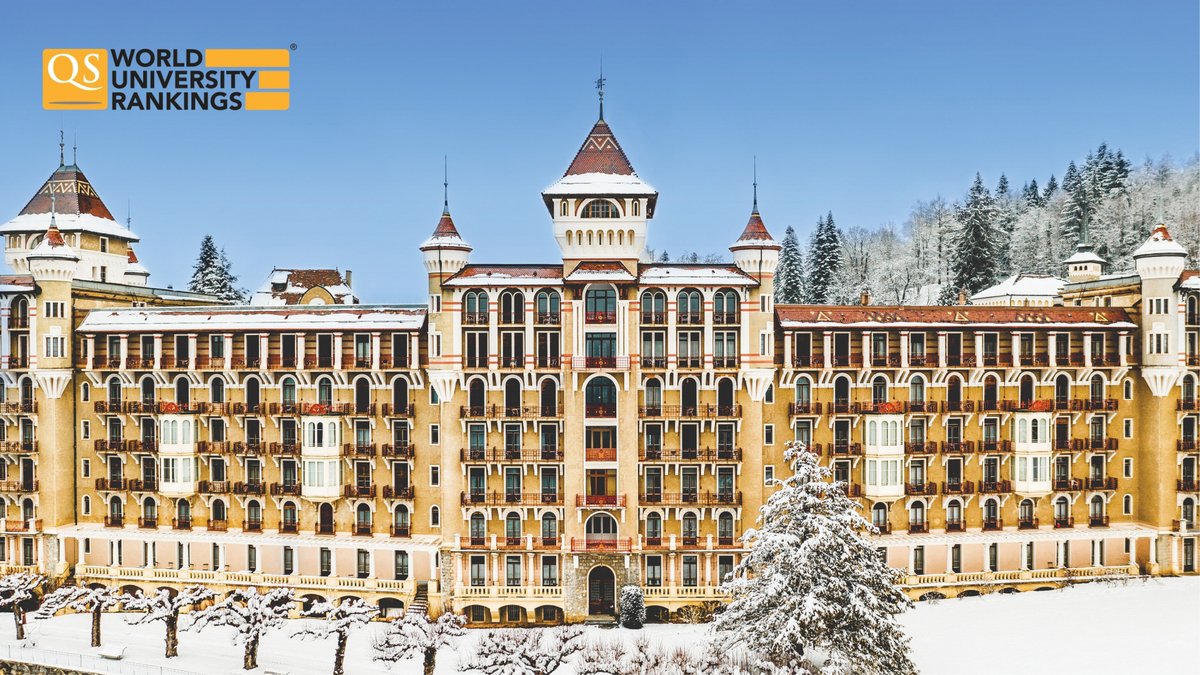 I den seneste QS World University Rankings rangliste, som blev offentliggjort onsdag d. 3. marts, har Swiss Education Group skolerne fået 5 placeringer i top-10-listen i kategorien hotel og leisure management. Denne præstation reflekterer både topkvaliteten på skolernes akademiprogrammer samt deres internationale omdømme hos de førende arbejdsgivere og partnere.
Swiss Hotel Management School (SHMS) har sikret sig en 4. plads i den globale rangliste, hvilket betyder, at skolen 5. år i træk får en placering i top-10-listen over verdens hotel og leisure managment skoler. Alle vores andre skoler har også gjort imponerende fremskridt og er kommet med på top-10-listen,dette er Hotel Institute Montreux (6. plads), César Ritz Colleges Switzerland (7. plads), Culinary Arts Academy Switzerland (8. plads) samt IHTTI School of Hotel Management (10. plads), som for nyligt er blevet sammensluttet med SHMS.
Denne fremragende præstation viser vores fakultet og personales høje faglige niveau, samt kvaliteten på skolernes uddannelsesprogrammer. Gennem årene har vores skoler etableret stærke akademiske partnerskaber samt erhvervspartnerskaber, hvilket har resulteret i højst relevante curricula, støtte til de studerende angående karriereudvikling og beskæftigelse, samt opbygning af globalt alumnenetværk.
Vi er meget stolte over det resultat vores skoler har opnået og taknemmelige for den støtte vores akademiske partnere og erhvervspartnere verden over har ydet. Som den største private uddannelsesudbyder indenfor hotel, business samt restaurantbranchen i Schweiz, fortsætter vi med vedvarende engagement udbydelsen af uddannelse i verdensklasse og transformering af liv.

Yong Shen, Chief Executive Officer i Swiss Education Group.
Culinary Arts Academy Switzerland er den eneste madlavningsskole, der har fået en plads på verdensranglisten – et bevis på skolens verdensklassestandarder og schweizisk tilgang til undervisning i madlavningskunst. Skolen har fokus på opbygning af både praktiske færdigheder så vel som forretningsmæssige kompetencer hos de studerende, skolen sørger for at dens kandidater får en alsidig uddannelse og har mulighed for at blive fremragende kokke og foodpreneurs.
QS World University Rankings er udviklet til at give en uafhængig kvalitetsvurdering til millioner af studerende, forældre, akademikere og de forkellige beslutningstagere, som ønsker dataunderstøttet valg af uddannelse, karriere og strategi.
Vi ser, at Hotel Institute Montreux, César Ritz Colleges Switzerland, Culinary Arts Academy Switzerland og IHTTI School of Hotel Management alle har forbedret deres placeringer i år ud fra vurderingerne fra akademikere og lignende arbejdsgivere – et sandt bevis på uddannelse i høj kvalitet samt gode beskæftigelesresultater for kandidaterne.

Jack Moran, QS Talsmand.
Årets rangliste bekræfter det faktum, at Schweizs bedste hotelprogrammer tilbyder uddannelse i verdensklasse til deres studerende. Med 220 vurderede programmer fra 30 institutioner på årets rangliste, er Schweiz det 16. mest repræsenterede land i verden. Hvad angår top-100 programmer, er Schweiz den 10. stærkeste globale videregående uddannelsesnation baseret på 121 programmer fordelt på 27 institutioner.
Læs mere om årets rangliste her.