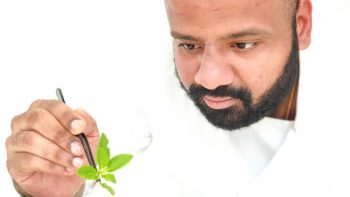 Efter at have uddannet sig på Culinary Arts Academy Switzerland i 2016, udforsker kok Siddharth Chogle nu aspekter af restuationsbranchen ud over køkkenet takket være sit seneste job i en hospitality consulting i Indien.
Hvorfor valgte du at blive kok?
Lige siden jeg var syv år gammel, hang jeg meget ud i køkkenet. Mine to bedstemødre, som begge var gode kokke, ønskede at lære mig at lave mad.
Jeg plejede også at se en masse madlavningsprogrammer på tv, og jeg prøvede også at genskabe opskrifter derhjemme. Efterhånden som tiden gik, udviklede jeg en evne til det, og når det kom til at vælge en specialisering efter gymnasiet, var det en no-brainer.
Jeg tog en BA Honours-grad i kulinarisk kunst i Indien, hvilket gav mig en god base for at fortsætte min uddannelse på Culinary Arts Academy Switzerland.
De køkkener, som vi havde adgang til. Det allerbedste udstyr som studerende må bruge. Schweiziske køkkener er noget, jeg savner mest, siden jeg flyttede ud af Schweiz!
"Selv nu lukker jeg nogle gange øjnene og forestiller mig, at jeg står i CAAS-køkkenet, og det giver mig gåsehud bare at vide, at jeg havde denne fænomenale oplevelse."
Hvad betød det for dig at have adgang til dette avancerede udstyr?
Når du arbejder med det allerbedste udstyr, er alt andet derunder nemmere at arbejde med. Det hjælper dig med at holde trit med udviklingen inden for teknologi og giver dig selvtillid som kok til at bruge ethvert værktøj gennem din karriere.
Du udvikler også visse standarder, så i mit sidste job sørgede jeg for at få den samme ovn, som vi havde i Schweiz. Den menu, vi havde lavet med den, ville ikke have været muligt uden den ovn. Det løfter bare din madlavning til et helt nyt niveau.
Hvordan har dine studier på CAAS været med til at forme din karriere som kok?
De to og et halvt år, som jeg tilbragte i Schweiz, er nogle af mine mest frugtbare år som kok. Meget af det, jeg laver lige nu, er påvirket af mine studier på CAAS.
Jeg havde altid en interesse i det europæiske køkken, så det var en anden grund til at studere i Schweiz. Efter at have lært direkte fra europæiske kokke gav det mig viden og tillid til at specialisere mig i europæisk mad, som er et stort marked i Indien.
En ekstra fordel er det omdømme og den øgede tillid fra kunder, som stoler på mine kompetence takket være min schweiziske grad.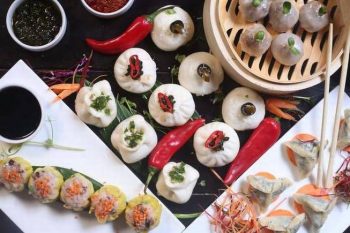 Fortæl os om det projekt, du i øjeblikket er igang med
For et halvt år siden arbejdede jeg som chefkok i en (moderne) asiatisk fusionsrestaurant i Delhi. Jeg nød det, men ville flytte tættere på min familie i Mumbai. Tilfældigvis introducerede en ven mig for en hospitality consulting group, R T Hospitality, som laver F&B og køkkenopsætning til restauranter, hoteller og resorts. Alt fra at designe menuer til at lave madforsøg, hjælpe med at vælge servise, ansætte personale og lave standardopskrifter. Jeg elskede ideen om at lære mere om andre aspekter af virksomheden, som du som kok normalt ikke bliver udsat for. Så jeg tog jobbet.
Vi er et voksende team af kokke, ledet af den berømte kok Rakesh Talwar, der arbejder med køkkenopstillinger i hele Indien og udlandet. Vi har samarbejdet med Playboy-gruppen om at etablere alle deres lounger i Indien. Vi arbejder i Hong Kong og Den Demokratiske Republik Congo med flere projekter i pipeline.
Det er en fantastisk læringsoplevelse og et mangfoldigt og 'åbent' job for en kok. Jeg rejser hver uge eller to uger af gangen og hjælper med at åbne en lang række venues: fine restauranter og afslappede restauranter, lounges, barer. Jeg specialiserer mig ikke i ét slags køkken, men prøver i stedet alle formater i hospitality sektoren. Alle de fag, jeg tog under min master i Schweiz, går nu op i en højere enhed.

Kokkererer du stadig?
Da jeg startede jobbet, frygtede jeg, at jeg måske ikke skulle lave mad mere. Men tværtimod rejser jeg hver uge fra et sted til et andet, og der er altid madlavning involveret. Det er enten en ny, sæsonbestemt eller helt særlig menu, der skal laves eller madforsøg. Alt dette giver mig stadig mulighed for at nyde aspektet af mit erhverv.
Hvad er din kulinariske filosofi?
Selvom jeg har specialiseret mig i europæisk køkken, er jeg meget påvirket af ideen om at arbejde med lokale ingredienser. Jeg tror, at en ingrediens, der er produceret i en bestemt region, fortjener at være en del af områdets kulinariske arv.
"Det er vores moralske pligt som kokke at repræsentere maden i den region, hvor vi kommer fra, da der er skønhed i den lokale smag og det lokale køkken, der venter på at blive genopdaget."
Mit mål, i de næste par år af min karriere, er at fremhæve ingredienser, der hører til Mumbai med dens overflod af skaldyr og sæsonbestemte specialiteter.

Siddharth er uddannet på Culinary Arts Academy Switzerland i 2016 med en Masters of International Business in Culinary Management.