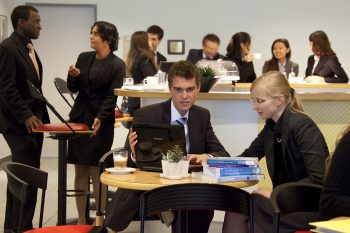 Er du interesseret i at læse en master i udlandet?
Vi har glæden af at invitere danske studerende, som overvejer at læse en Master i Hospitality, Turisme og Entrepreneurship, til Åben Hus på César Ritz Colleges i Schweiz den 15 – 17 november 2020.
Kom og oplev en af verdens bedste hotel og business skoler og få en fornemmelse af, hvordan det er at leve og studere i Schweiz. Overnatning samt forplejning er dækket under besøget, så det eneste du skal tænke på, er transporten til og fra skolen.
Besøget er skræddersyet danske studerende, og du får blandt andet muligheden for at opleve:
Præsentation og gennemgang af masteruddannelsen: Master of Arts in Entrepreneurship for the Global Hospitality and Tourism Industry
Hvad kan du bruge uddannelsen til: Karrierepræsentation med dansk karrierevejleder
Rundvisning på campus
Workshop
Karrieremulighederne med egne øjne: Deltagelse i International Recruitment Forum
Byvandring i studiebyen med dansk tour guide
César Ritz Colleges er godkendt af SU styrelsen, og som masterstuderende kan man få støtte til at dække studieafgifterne.
For mere information og tilmelding kontakt studievejleder Sarah Hitz: [email protected]
Vi ser frem til at møde dig!